Enter the world of Portal 27: I'M COMING OUT!, a solo exhibition by Mieyoshi Ragernoir, The exhibition will be open from April 1st to April 30th at Norwest Gallery of Art curated by Asia Hamilton.
The exhibition celebrates an exit and entrance to a pathway of self-discovery through portraitures of human connections and rooms. Open on Saturdays from 12 pm to 6 pm and Sundays from 12 pm to 4 pm, this is a must-see event for anyone seeking an immersive and transformative art experience.
Meet the Artist: Mieyoshi Ragernoir
Mieyoshi Ragernoir is a talented painter, art educator, and installation artist hailing from Harlem, NY, and currently living in Detroit, Michigan. Mieyoshi earned her BFA in Painting from Pratt Institute in Brooklyn, NY, in 2019, followed by her MFA at Cranbrook Academy of Art in 2022. Her artwork focuses on celebratory paintings that archive the connections within her community, with a strong emphasis on the radiance and joy of Black femininity. Mieyoshi has been mentored by and worked as a studio apprentice for several prominent artists, including Detroit native painter Mario Moore.
Mieyoshi Ragernoir's Journey to the 27th Portal
Portal 27: I'M COMING OUT! showcases patterns of human mirrors, numerology, and color sensations that have revealed themselves throughout Ragernoir's journey to the 27th portal. Mieyoshi's work reflects the radiance of the community of artists she has encountered over the past three years. Each figure's portrait acts as an opening portal on the exhibition's "The Wall of Mirrors" area, showcasing the interconnectedness of human experiences.
Intimate Spaces and Human Connections
Ragernoir's favorite rooms are sacred and intimate spaces, particularly the home and dining room, where she has shared her most cherished moments with the people portrayed in her artwork. Each human "mirror" portrait is surrounded by vibrant and colorful auras, representing the community of people who have arrived as reflective keys to the mirrored doors, leading to Ragernoir's self-discovery in Portal 27.
Don't miss the opportunity to immerse yourself in the world of Mieyoshi Ragernoir's Portal 27: I'M COMING OUT! this April. Witness the transformative power of art and human connections as you explore the captivating portraitures and intimate spaces of this unique exhibition.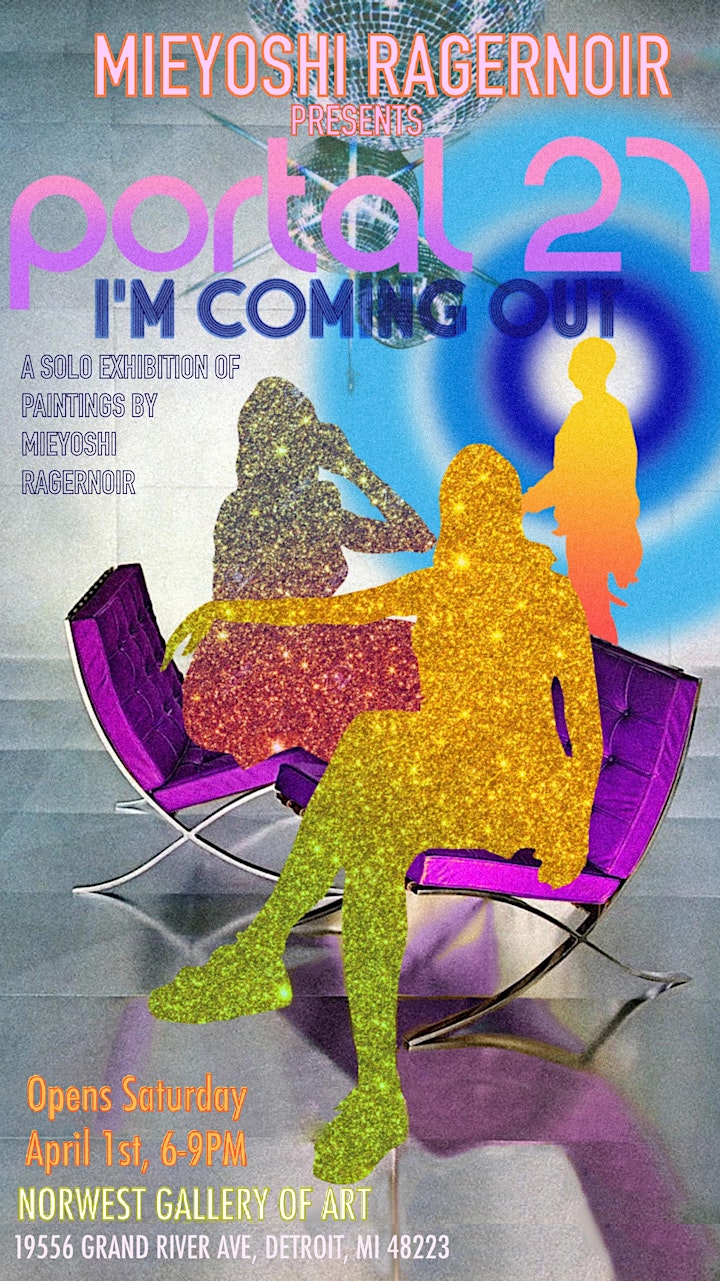 Facebook Comments